Buff Einstein 640
Product homepage: http://paulcbuff.com/e640.php
Rob Galbraith has a more serious review for sports usage. This page is mostly just me rambling.
See the parent page for notes on buying these things.
I use it with the Cyber Commander remote and Vagabond battery pack, it's a great setup.
Why?
High output
Portable
Smart wireless control system
Fun
Specs
640 Ws (wattseconds) output

Comparison to hotshoe strobe guide numbers is basically impossible, the internet suggests ~160 Ws for top-end speedlights

Weighs just on 2kg

About the size of a tissue box
General thoughts
It's a pleasure to use, and just works. Braindead-easy to use.
Obviously less conducive to rapid changes on position/composition than a hotshoe.
Takes the umbrellas you know and love. Built-in attachment mounting ring means heaps of options for light modifiers.
Plenty of power, this was shot with 1/250sec, f/16, ISO 100, and the light probably at 320-450 Ws: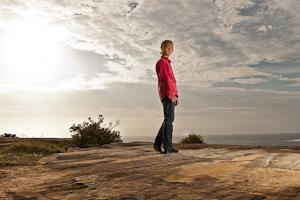 Rest of the day's photos here.
Easy to move and adjust on location. Battery unit is convenient for weighing down the base of the lightstand a little, but not enough on its own unless there's no wind.
Portability
I have a Lowepro Fastpack 200, which is medium-sized - not huge, but big enough to carry a useful amount of gear. »What a normal loadout looks like »What a normal loadout looks like
D700 w/ 80-200 in the bottom main compartment
SB-600 in the bottom compartment, in a divided section
50mm/1.4 stashed in another small divided section
16-35mm/4 in the top section
Some free space in the top section for a jumper/shirt, laptop, and another lens/speedlight or two
You can fit an E640 in the top section with plenty of room on the sides: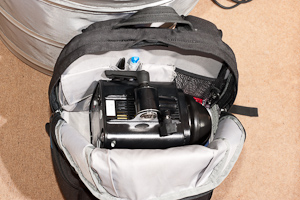 It's about the same size as an 80-200mm f/2.8: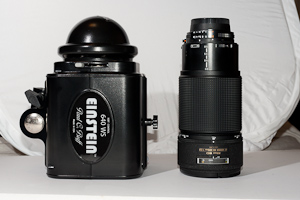 Annoyances
Wireless receiver sticks out a long way, can't be stowed with it installed
Why an Einstein vs. an Alienbee?
Compared to the B1600, which is also rated at 640 Ws.
Universal voltage
Cheaper wireless receiver modules
Wireless controller is more expensive, but far more capable

Heavily integrated 2nd-gen remote control, the Alienbee 1st-gen cybersync stuff is kinda janky (perfectly functional, just not as nice)

Better output-level control, another 3 stops of latitude
Only ~350g heavier
Brighter modelling lamp (250W vs. 150W)

Modelling lamp can track flash output with offset

Slightly faster cycle time
Flash duration proportional to power, like hotshoe strobes
Comparison to a speedlight system
| | | | |
| --- | --- | --- | --- |
| Attribute | Einstein 640 | Speedlight SB-800 | Notes |
| Weight | 2kg | 500g | They're probably fairly close in terms of output-per-gram |
| Portability | Much larger | Compact even with attached foot | - |
| Light output | Absurdly high | Rather high | Numerical comparison would require some apples-to-apples testing |
| Burst capability | Good | A few flashes, depending on power | Not specced. Try opto-slaving the E640 to a speedlight's modelling light for a laugh |
| Cycle time | 1.7sec to full output | 2.7sec to full output | 2.3sec quoted for newer speedlights |
| Output control | 1/10th f-stop | 1/3rd f-stop | - |
| Continuous shooting | Basically non-stop | Subject to overheating | Speedlight behaviour varies between models. Buff gear only defines a maximum continuous usage for the Zeus lineup |
| Modelling lamp | 250W bulb | None | Usefulness heavily dependent on your style, E640 cannot use lamp with battery |
What about cost? Assumptions:
A pair of lights
Don't bother buying the reflectors or grid, since we assume you already have some from your work with hotshoe strobes
You've already got some lightstands too
For the lights:
Two E640s will cost you about $1450 delivered
Two SB-900s will cost you about $1050 from DD Photographics
Two secondhand SB-800s might be found at Foto Riesel for $400
And your Yongnuos and Nissins... I dunno how much they cost
Triggering:
Opto-slave might be good enough for you
If you're happy with RF poppers, the same gear will work for both studio and hotshoe strobes, with slightly different plugs on the receivers
If you want remote power-control, $375 should get you a cyber commander and a pair of receiver modules

Those are my old calculations which suggested $50 per receiver. Not sure why the receivers are apparently $70 now :/

Another power-controlling option is the Pocket Wizard gear, but finding anywhere that even knows that the PowerMC2 receivers exist is challenging.

$396 for 2x receivers from the local Buff retailer
$275 for a MiniTT1 transmitter and AC3 Zonecontroller from Digital Rev
That's about $670 of gear. On the upside, the transmitter and controller can also be used for hotshoe strobes (if you buy the TT5 receivers instead of the MC2 units)
Power:
Hotshoe strobes bring their own. Cheap enough to be "free" for the sake of argument, or at least to be amortised over lifetime
$400 for a Vagabond Mini Lithium pack, assume you've got extension cords lying around already