Cyber Commander
Product homepage: http://paulcbuff.com/cc.php
Summary
Controls all Buff receivers, I use it with the Einstein 640 units.
Can address 16 channels/lights
Built-in flashmeter
Total control of all E640 functions
Takes 2x AAA batteries
Comes with a micro-SD card for storing lighting setups
Has a 2.5mm mini-jack port if you can't/don't want to trigger the cyber commander via the hotshoe
My own notes
Pretty easy to get started, though you'll want to read the manual a bit
Small, very sturdy little unit
Hinged at the hotshoe so it can stand up or lie down flat. Clicks at 0-15-30-45-60-75-90 degrees

I find it has a tendency to fall over and lie flat, but this hardly bothers me, just seems a little meh

It really sucks if your batteries run out, so carry spares
Interface isn't bad, uses two 4-way joysticks that can also be pressed inwards for a "click" select action

Joystick feel is pretty good, but they're very small so it's possible to mistake a click for a direction sometimes

I felt the interface could sometimes benefit from having one or two more direct controls, but this is a fairly minor issue
Firing is done through a single, dumb sync pin in the hotshoe, so it's fully compatible with everything ever made. So you can do silly-buggers stuff like this: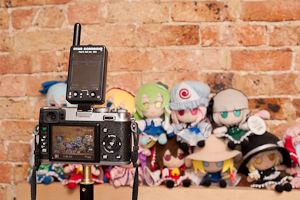 Actually, an SB-900 on top of the X100 would look sillier than this.
The only other thing that comes to mind is that the Cyber Commander is really useful as a flashmeter. To that end, Buff recommends/advises that some photographers buy a dedicated CST transmitter for just this purpose (leaving it on the camera to send the final FIRE ZE SHIT signal), while walking around and metering and adjusting with the Cyber Commander. The utility of this method depends on how much you'll be changing the lighting setup throughout the shoot.
The silly alternative to this is to use a couple of pocket wizards, the baseline Plus-II units will do fine:
Camera hotshoe -> Pocketwizard transmitter -> Pocketwizard receiver -> sync-port on the Cyber Commander -> Buff lights