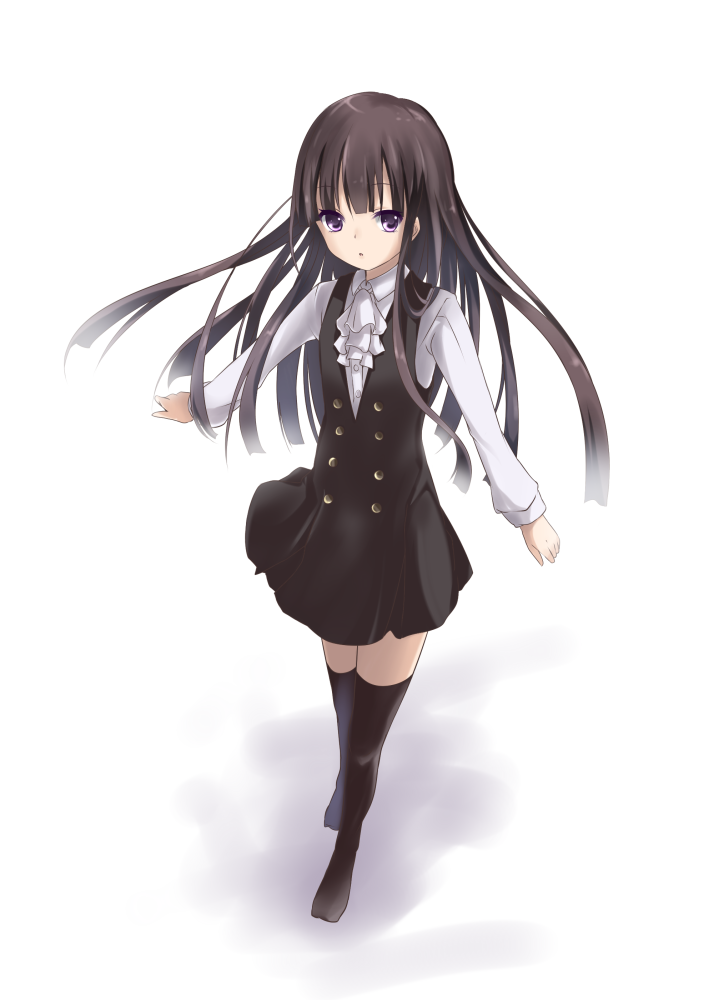 Protagonist from Inu x Boku Secret Service, the school uniform should look quite elegant if matured a bit.
Other notes
Components
Dress
Should be pretty simple, I think...

1x front
2x front-side
2x back-side?
2x belt pieces
1x belt-joiner
1x back fishtail (maybe attached to belt-joiner)
Zipper on one side

Pretty much straight-sided down to the waist, then springs out pretty heavily
And the skirt is pretty short, of course
A box pleat on each side, adjoining front and front-sides
Fishtail looks to complement the dress fabric itself, in which case don't add pleats to the back side
The peak of each pleat continues upwards as a vertical seam, meeting the shoulder strap around bust height(?)

Not sure what the belt is doing here

Side seams as well
Four gold buttons up each side of the front strip, just inside the vertical seams
Deep V-shape at the back from the straps, plunging at the front but less so

About halfway between sternum and navel?

Belt pieces are sewn into the top of each front pleat
I think a poly-viscose fabric would be correct
Plenty of reference materials:
Pattern
I sat around in Lincraft for a couple hours and perused their pattern books, I think I'll just have to take something that's vaguely close and work with that, like for Noel.
Cosmode
OMG Yumi you're amazing! Cosmode published a pattern for the dress, which she has a copy of. It's in Japanese, but I managed to stumble through it with a little help.
I've put together a rough guide for the sewing with minimal translations.
Material
Grabbed a few metres from the end of a roll at the Remnant Warehouse, will see if it's any good and try using it for prototyping. I think it's basically okay, but something better shouldn't be too hard to come across.
Also got 3m of Ink-coloured poly-viscose at Spotlight, let's see how that looks. It really does canonically seem to be black, hope I haven't fucked this up.
Findings:
The remnant stuff isn't what I'm after, but it should be usable for prototyping
The poly-viscose is absolutely spot-on
Blouse
A plain white blouse should work, will have to find another one. I don't have any spare at the moment, seeing as the last one got modified for Kurisu's outfit.
Cravat
Put something together, should be fairly easy.
Stockings
Those stockings are amazing, they're sorta ribbed... what's available?
Need a garter belt. Luckily I have one!
Shoes
Nice mary-janes would be good. The ones I have are a bit too chunky. Consider something that'll match her aesthetic (a little mature and refined).
Found something in the right style for $50, but they're size 10 (a bit small). They'll probably be fine.
Wig
Straight purple hair, down to at least the waist, preferably down to the butt. Similar to Yamada (Working!).
Straight fringe across forehead, not hime-cut.
References for hair style:
Options!
Contact lenses
The purple lenses I have for Kurisu will probably be fine.
Makeup
Cosmode magazine has some advice too, I think I'll follow that.
Photo ideas
Photos