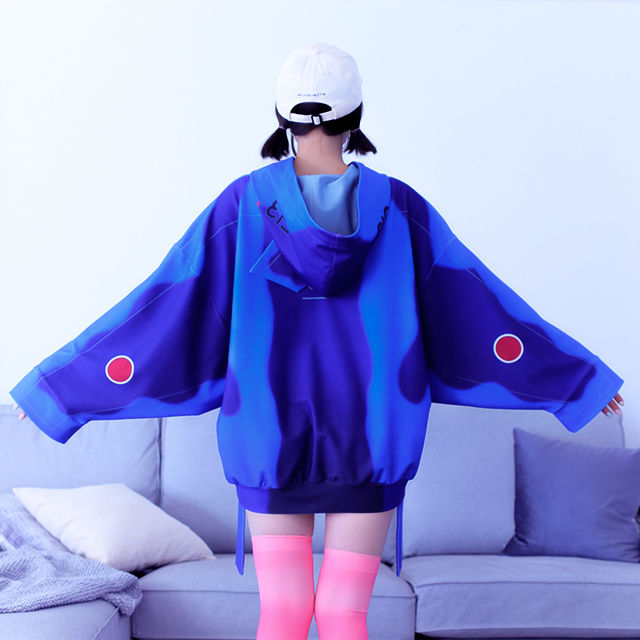 It's a parka/hoodie made to look like a fighter jet. It would definitely be cute for an anthropomorphised fighter jet to wander around on a sunny day and do stuff.
Product page here, I have the blue Mitsubishi F-2 model: https://silhouette-web.stores.jp/items/5a3d2ce0c8f22c44bb000973
They also made a cap and stockings to go with it. The stockings are made to mimic shock diamonds from jet exhaust, which is super cool.
Look and feel
The overall aesthetic is casual and relaxed, comfortable.
It's easiest if makeup reflects that, but there's definitely room for something wilder or unusual if desired seeing as there's a technical/military edge to it.
Daytime photos should be strong in sky blue and have a cool feel to them. Hopefully the light will warm up nicely for dusk. I imagine a greenish tint for artificial night lighting.
Time
We need to keep a pretty tight schedule. Start around 1500 and knock things off the list.
Aiming for afternoon and evening, enough to catch a bright day with mostly clear skies, and then a low setting sun for something moody. A little bit of dusk/night for artificial lighting, like flares and green-tinted runway lights, but it's no good once the sun is gone completely.
In mid-April, most light is gone by 1800 or so, and shooting cutoff is probably 1830 unless the artificial lighting is particularly promising.
15:00 Start, try outdoor shots
xx:xx Move to indoor location, this may eat a lot of time in transit though
17:00 Hitting dusk, should be nice orange light in the sky
18:00 Light is almost all gone now, stars probably visible if not too much cloud. Right time for flares.
Location
Do some indoors work if possible for some calm and airy shots, but mostly aiming for outside.
Necessary outdoor features:
Short grass
Tarmac/road
Cyclone fence, like the type around airports
Mascot or Bankstown airport may suit. Bankstown is pretty convenient, and should have an accessible area behind the big Bunnings warehouse thing.
Marion St on the north side is residential and looks like there's a park with a good view
There's a roundabout near the back side of Bunnings, on the southeast corner of the airport, close to tarmac, this is pretty good
Allingham St west end looks alright but a long way from tarmac
Wackett St attached to Bankstown Basketball Stadium totally does not have an open accessible fence past the closure
I have a pilot friend who can offer assistance once he gets his instrument flying recertified (to allow night flying), suggested Bathurst airport for lit runway shooting that's not going to get in anyone's way, but that's not an immediate short-term thing.
Props and items
Having a little model plane for photos would be cool, look in Hobbyco? https://twitter.com/hiroyuki03011/status/972804342670438400

Aviator sunglasses, the mirror-reflective ones, need to find some

Being lit by red distress flares would look pretty good, maybe one handheld and a few on the ground. Makes the most sense once it's dark I think, don't need to see a lot of environment. Grabbing a bunch of red sparklers, maybe strapped into a tube, would look about right. http://www.thepartypeople.com.au/sparklers-24-pk-red-green-blue

A helmet with full face visor, dunno where I'd borrow one
Cockpit headphones with intercom mic thing
Posing
Nice casual pose: you_sitting_crosslegged.jpg

Waking up in an airy high-key bed setting, or maybe can find something a bit grittier and contextual. Bunk bed would be good, more dorm-ish
Playing with model plane
Or paper plane
Jumping made to look like flying/floating
The parka ships with a red Remove Before Flight tag on the zipper, that's good for a pose or two
Something to do with the afterburner socks
Nyoom~ pose, like... this:
Do something with the Remove Before Flight tag, maybe hold it in teeth while smirking, or dangling from fingertips
If I can find a helmet, look like a fighter pilot, helmet under one arm and walking
Shot ideas
Wandering around, lying on the grass watching the clouds.
Posing with sunglasses, looking cool/silly
Standing on/near tarmac with signalling flares, will be a very contrasty and intense look
There's definitely room for a Macross idol joke here with this song: http://macross.wikia.com/wiki/My_Boyfriend_is_a_Pilot Except now it's more like... "Watashi wa pilot" :P
Examples of it being worn
Logistics
Need to test for length, best with some plain dark shorts I think. Ideally will be pretty long when worn.
Sneakers or boots would work, I think I like the idea of dark ankle-height boots.