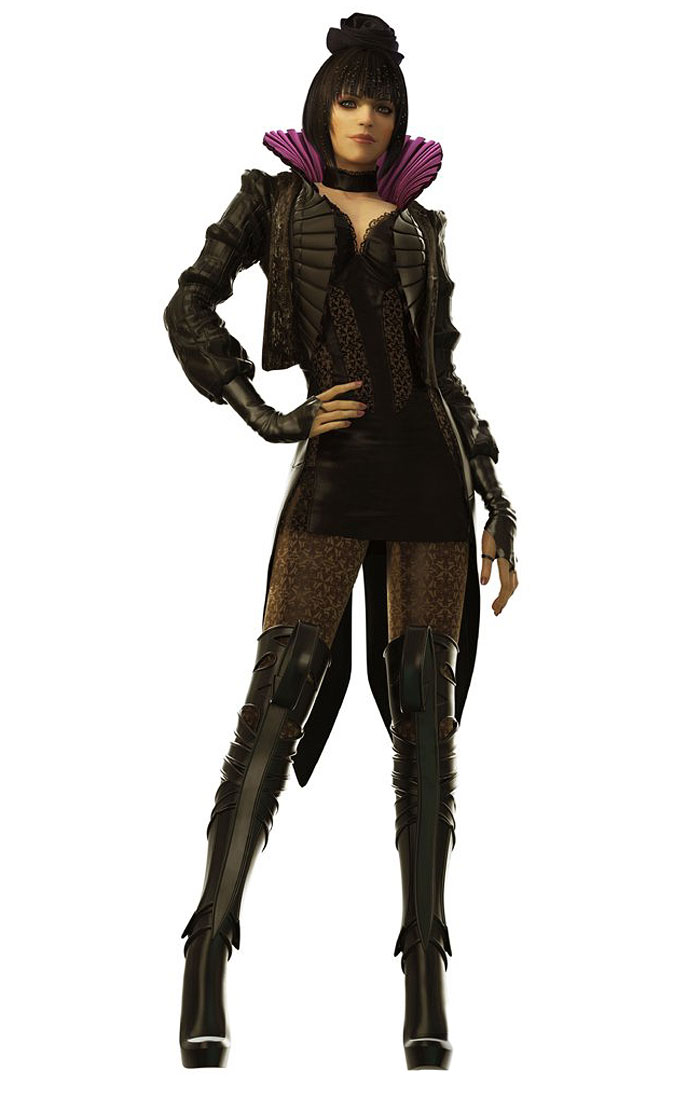 Eliza Cassan - Deus Ex: Human Revolution
I absolutely loved playing DXHR and Eliza was a standout character. Really all of them are, but Eliza is just stunning.
Maybe I'll have this ready in time for Supanova 2013.
Why?
Beautiful, rich and famous, Eliza Cassan is the star news anchor for Picus TV, and a global celebrity
She's with the pro-augmentation/transhumanism faction, so she gets snazzy cyber-renaissance outfits
Who are we kidding, it's sexy as all hell
She's obviously very feminine, but her appearance is a bit androgynous, which works for me
References
There was a book of official design materials released.
Eidos official discussion, really cool!
General description, other images, etc:
There's a cosplayer who's done it, and there's a good number of photos, yay:
A howto writeup, this will go a loooong way to help get it done
Components
Boots
Outer leggings of a sort
Leggings
Dress
Choker
Coat
Scarf thing
Pink/purple nails
Hair adornment thing at the front with beads(?)
Black rose hair adornment thing
Green contacts
Etc...
Making
Boots
Wittner might have something suitable, they're ankle-height tall stiletto-heeled boots with a platform. In the current line up:
Neither are cheap, but they're options.
Outer leggings
Looks like black denim or some sort of heavy, textured cotton. All wrappy and stuff.
Go looking for material.
Leggings
Dark brown colour with a baroque patterning on them.
Look around online.
Something like this: http://item.taobao.com/item.htm?id=6125501148
Dress
Short black one-piece with patterned panels.
Pattern panels are darker than the tights, also baroque pattern, slightly smaller scale
Some sheen on the material, could be thin like a satin chemise or thicker like spandex. Should be a bit stretchy
Plunging rounded-V neckline, with lacey frilly bits over the boobs
Unclear how the sides, back or shoulders look
Appears to be slit up the sides, not sure how high
Choker
Probably black satin, about 4cm high, lacey frill on upper edge.
Coat
Complex as fuck.
All black shell
Very high ruff collar/lapel thing
Purple inside the collar, concertina'd
Thinking a mix of pleather for most of it, with some satin for the more detailed bits
Scarf thing
Little detail, dark, baroque pattern. Hangs over neck like a towel.
Pink/purple nails
As described. Same colour as inside of collar.
Hair adornment thing at the front with beads(?)
Probably want to clip it into the hair, will have to look around. DIY? Maybe visit the bead/stone shop in the rocks.
Black rose hair adornment thing
Shiny satin or something, probably simple enough to make a long strip and make a crinkly spiral shape. Glue into place so it holds shape, attach to hairclip.
Green contacts
As described.